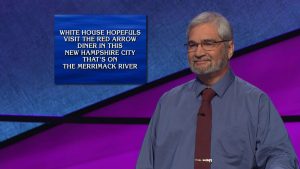 Manchester, NH – Red Arrow Diner is excited to announce it was featured in a Daily Double clue on a recent episode of JEOPARDY!, America's Favorite Quiz Show®, which aired on May 28, 2019.
Red Arrow Diner appeared as a famous Daily Double clue worth $800 in a category titled Eastern Seaboard. The clue was timely to the upcoming Presidential Primaries: White House hopefuls visit the Red Arrow Diner in this New Hampshire city that's on the Merrimack River. The contestant, a man named Jim-Bob Williams from St. Albans, West Virginia, gave the correct answer of Manchester.
"I am extremely excited that the Red Arrow Diner appeared as a clue on JEOPARDY!," said Carol Lawrence, Co-Owner & President of Red Arrow Diner. "JEOPARDY! has been a beloved staple in American households for over thirty-five years and is also a personal favorite of mine. I am honored that Red Arrow Diner was mentioned on an Emmy® Award winning show loved by millions and thrilled the contestant answered the question correctly!"
JEOPARDY! is in its 35th anniversary season and is the top-rated quiz show on television. The show provides a test of knowledge across a variety of interesting subjects such as literature, history, science, the arts, and pop culture and has a weekly audience of 23 million viewers.
View the full clip of Red Arrow Diner's JEOPARDY! appearance on Red Arrow Diner's official Facebook page: https://www.facebook.com/redarrowdiner/videos/1046429595545854/.
About JEOPARDY!
JEOPARDY! and its host Alex Trebek are celebrating their 35th anniversary season. With a weekly audience of 23 million viewers, JEOPARDY! is the top-rated quiz show on television, and has received numerous awards and honors, including the 2019 Emmy for Outstanding Game Show Host. The show holds the Guinness World Records® title for the most Emmy® Awards won by a TV game show (35 Emmys); it is also the recipient of a 2011 Peabody Award. JEOPARDY! is produced by Sony Pictures Television, a Sony Pictures Entertainment Company; it is distributed domestically by CBS Television Distribution and internationally by CBS Television International, both units of CBS Corp. For more information, please visit Jeopardy.com.
About Red Arrow Diner
A privately-held company based in Manchester, New Hampshire, the Red Arrow Diner operates restaurants in Concord, Manchester, Milford and Londonderry, New Hampshire, United States. Each Red Arrow Diner location is a 24-hour diner and serves over 500,000 breakfasts annually. The Red Arrow Diner has been featured on various nationally broadcasted television and radio shows, including the Food Network's Diners, Drive-Ins and Dives, NBC's JEOPARDY!, and SiriusXM political channels Patriot (125) and Progress (127), as well as national publications, such as USA Today and the Food Network Magazine. Additionally, Red Arrow is an active community supporter with countless volunteer hours, pro bono promotions, and financial donations. For information about the Red Arrow Diner, visit www.redarrowdiner.com.