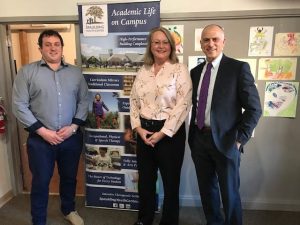 Northfield, NH – Spaulding Youth Center is excited to announce it sponsored the Artistic Lives art exhibit reception at the historic Belknap Mill in Laconia, New Hampshire. The Belknap is the oldest unaltered brick textile mill in the U.S. whose building houses a museum, art gallery, concert hall and event facilities. The reception was held prior to a screening of the film Intelligent Lives.
The public was invited to Artistic Lives, a celebration of art created by artists with disabilities. A group of Spaulding Youth Center students provided artwork for display at the exhibit for attendees to enjoy. Following the art exhibit, the public was invited to a special viewing of the film Intelligent Lives. Created by filmmaker Dan Habib, the film follows the lives of three people with intellectual disabilities who strive for acceptance in school, college and relationships. Habib made the film in hopes it would help to transform the label of intellectual disability from a life sentence of isolation into a life of possibility.
"Spaulding Youth Center was proud to sponsor Artistic Lives and be part of an evening that focused on the inspiring abilities of so many people with intellectual disabilities," said Susan C. Ryan, President & CEO of Spaulding Youth Center. "The message conveyed in Intelligent Lives resonates with our entire organization. We also share the believe that those with intellectual disabilities are capable of challenging stereotypes and deserve meaningful opportunities in education, employment and relationships."
The evening also featured remarks from filmmaker Dan Habib and New Hampshire Senator Maggie Hassan, as well as a panel discussion about the topics covered by the film. Visit https://intelligentlives.org/ for more information about Intelligent Lives and to learn where to attend a future screening.
About Spaulding Youth Center
Spaulding Youth Center is a leading provider of services for children and youth with neurological, emotional, behavioral, learning and/or developmental challenges, including Autism Spectrum Disorder and those who have experienced significant trauma, abuse or neglect. Services include academic, behavioral health, residential, foster care, health and wellness and family support. Spaulding Youth Center is a tax-exempt 501(c)(3) nonprofit. For information about Spaulding Youth Center, visit www.spauldingyouthcenter.org.