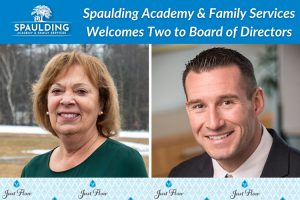 Northfield, NH – Spaulding Academy & Family Services is pleased to announce Cathy Cullity and Charles Lloyd have joined its board of directors.
Cullity always had an interest in Spaulding and loved the concept of a school that provides unique learning experiences with equal opportunities for all children. After spending 23 years as Chief Executive Officer at Girls Incorporated of New Hampshire (Girls Inc.), she is well equipped with the skills required to drive growth and raise funds for the organization through connections in New Hampshire and beyond all while keeping a keen focus on the mission to serve children and families. She's received numerous recognitions for her unique accomplishments including the Top 6 Women in Business for NH (2015), BIA NH Advantage Award (2017), and Eastern Bank Community Advocacy Award (2018).
As the President of White Mountains Community College, Lloyd's experience in educational leadership and administration will also provide a strong foundation based in real-world application. Born and raised in Franklin, and now residing in Bow, his lifelong knowledge of Spaulding will also be a valuable resource as he applies his educational passion to supporting the children and families of Spaulding. He graduated from Keene State College with a Bachelor of Science in Physical Education, earned his master's degree in education and Certificate of Advanced Graduate Studies from Plymouth State University, and his Doctorate is in Higher Education Administration from Northeastern University. In addition, his unique experience will enable the creation of new student pathways to offer a quality, holistic approach to education.
"The appointment of Cathy Cullity and Charles Lloyd to our board of directors is a source of great excitement," said Todd Emmons, President & CEO of Spaulding Academy & Family Services. "Their diverse skill sets are invaluable and will enhance Spaulding's capacity to deliver exceptional care and support to those who depend on us."
The Spaulding Academy & Family Services board of directors is comprised of volunteers from the human services, corporate, investment, and philanthropic sectors in New Hampshire. To learn more about the Spaulding Academy & Family Services board of directors, visit https://www.spauldingservices.org/leadership.
About Spaulding Academy & Family Services
Spaulding Academy & Family Services is a leading provider of educational, residential, therapeutic and community-based programs and services for families, and children and youth with neurological, emotional, behavioral, learning or developmental challenges, including Autism Spectrum Disorder and those who have experienced significant trauma, abuse or neglect. Established in 1871 as the New Hampshire Orphans Home and School for Industry, Spaulding Academy & Family Services is the oldest child care organization in operation in the United States. It is a is a tax-exempt 501(c)(3) nonprofit that was formerly known as Spaulding Youth Center since 1958. Its scenic hilltop campus is located on over 500 acres in Northfield, NH and welcomes boys and girls from ages 4 to 22 from around the state of New Hampshire and beyond. In addition to programs provided on the Northfield campus, Spaulding's community-based programs include foster family licensing, Individual Service Option (ISO) foster care, ISO in-home services, child health support services, and more for children ages 0 to 20 and their family. For information about Spaulding Academy & Family Services, visit www.SpauldingServices.org.