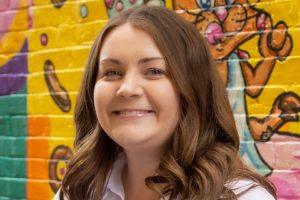 Thank you to New Hampshire Business Review and New Hampshire Union Leader for sharing our company development. Click here to read the New Hampshire Business Review coverage or here to read the Union Leader Monday Business coverage (with a subscription). Print-ready PDFs are available by clicking the publication names: New Hampshire Business Review, New Hampshire Union Leader
Manchester, NH – Brooke Wilson of Derry has joined Just Flow Events & Marketing, a full-service strategic marketing agency, as a Social Media Communications Specialist. In her role, she coordinates all social media marketing efforts for the agency and its diverse clientele, spanning hospitality, B2C service companies, law firms and nonprofit organizations.
Prior to joining Just Flow, Wilson acted as the marketing manager for a local hockey team, where she was responsible for graphic design and social media management. She brings a bachelor's degree in Marketing Communications with a minor in Graphic Design, as well as a master's degree in Sport Leadership from Endicott College.
"We are thrilled to welcome Brooke Wilson to our team as our new Social Media Communications Specialist," said Ami D'Amelio, CEO & President of Just Flow Events & Marketing. "Her extensive experience in social media marketing and background in graphic design will bring a unique blend of creativity and strategic thinking to our agency."
For more information about Just Flow, visit http://justflownh.com.
About Just Flow Events & Marketing
Supporting clients since 2010, Just Flow provides event planning and management, strategic marketing, social media, website design development, graphic design, copywriting and other related corporate communication services. Our team offers extensive experience in a variety of industries, including education, fine arts, health care and medical, high-tech, hospitality and dining, manufacturing, membership organizations, professional services and more. With headquarters in downtown Manchester, the full-service agency provides services for clients across New Hampshire, throughout the northeast, along the east coast and beyond. For more information, visit https://justflownh.com.