Thank you to New Hampshire Business Review for sharing this news. Click here to read the New Hampshire Business Review coverage. A print-ready PDF is available by clicking the publication name: New Hampshire Business Review.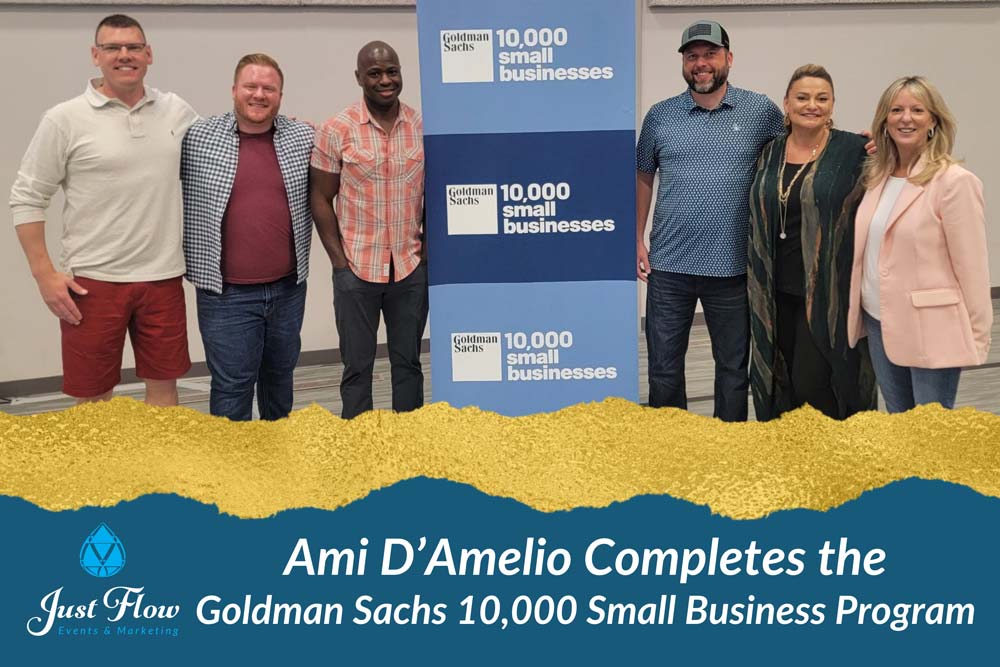 Manchester, NH – Ami D'Amelio, CEO & Founder of Just Flow Events & Marketing, was invited to join the spring cohort for the 2023 Goldman Sachs 10,000 Small Businesses Program. The selection process was competitive and D'Amelio was chosen from a strong pool of applicants representing small businesses throughout New Hampshire.
The program spanned several months and included a comprehensive curriculum of classes and activities designed to support the long-term growth of Just Flow. With a laser focus on targeted activities, including bridge work and engaging assignments, the program equipped D'Amelio with invaluable tools while providing access to a range of business support services and clinics.
"This exceptional program fortified the foundation of our company and has already expanded the overall capabilities of our business operations" shared Ami D'Amelio, CEO & President of Just Flow Events & Marketing. "I am honored to be chosen among some of the most respected small businesses in the state for the opportunity to collaborate in developing our individual growth plans and benefit from the expertise of Goldman Sachs business advisors."
For more information about Just Flow, visit http://justflownh.com.
About Just Flow Events & Marketing
Supporting clients since 2010, Just Flow provides event planning and management, strategic marketing and branding, social media management, website design development, graphic design, copywriting, and other related corporate communication services. Just Flow offers extensive experience in a variety of industries, including education, fine arts, healthcare and medical, high tech, hospitality and dining, manufacturing, membership organizations, professional services and more. With headquarters in downtown Manchester, the full-service agency provides services for clients across New Hampshire and throughout the Northeast. For more information, visit https://justflownh.com.