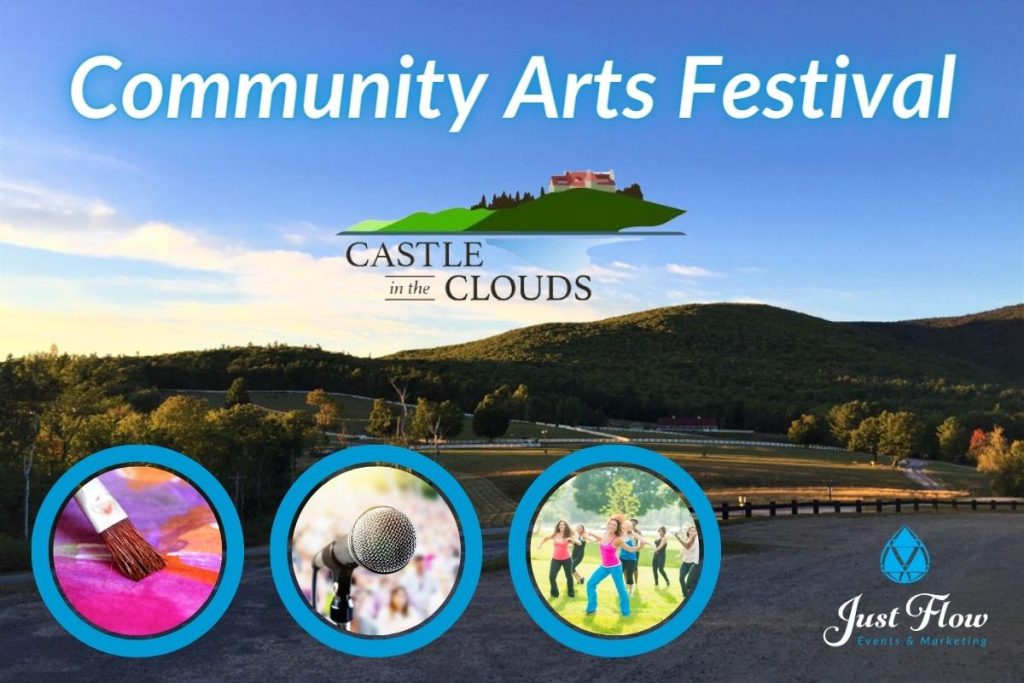 Moultonborough, NH – Castle in the Clouds is hosting its first-ever Community Arts Festival on Saturday, June 10 from 10:00 am – 2:00 pm. Presented in partnership with the Lakes Region Art Association, this exciting new event will feature booths with dozens of crafters, artists, and community organizations, various art demonstrations and performances, a scavenger hunt, art activities for kids, and more! The Community Arts Festival will be free for the public to attend. The rain date for the event will be Sunday, June 11.
Castle in the Clouds invites crafters, artists, community organizations, and other interested parties to apply for an event booth space. Each 10'x10' booth space is $30.00.
Art demonstrations and performances will be scheduled throughout the event. All crafters, craft circles and guilds, musicians and music groups, dance studios, martial arts studios, theater groups, and artists of all kinds are invited to apply for a 30-minute or one-hour time slot. Selected applicants will also receive a free booth space.
Priority deadline to apply for both a booth and a demonstration slot is April 30. For more information about this event and to apply, please visit castleintheclouds.org/community-arts-festival/.
ABOUT CASTLE IN THE CLOUDS
As the premier historical museum in the beautiful Lakes Region of New Hampshire, Castle in the Clouds provides each visitor with a look into the past while providing contemporary comforts to make every visit memorable. Originally called Lucknow, this breathtaking 6,300-acre property was originally developed in 1913 by Tom Plant to create a luxurious lifestyle with state-of-the-art amenities, beautiful hand-made furnishings, and a large staff to run the estate. These days, visitors come from all around the world to tour the mansion and exhibit gallery, dine in the Carriage House Restaurant or Café in the Clouds, hike miles of hiking and walking trails, or enjoy one of our many programs and events. Operated by the Castle Preservation Society, a 501(c)(3) nonprofit organization, Castle in the Clouds is revered as a cultural and educational resource and listed on the National Register of Historic Places with national significance. The Castle in the Clouds is also available as a fairytale wedding venue and versatile private event rental. For more information about Castle in the Clouds, visit www.castleintheclouds.org.