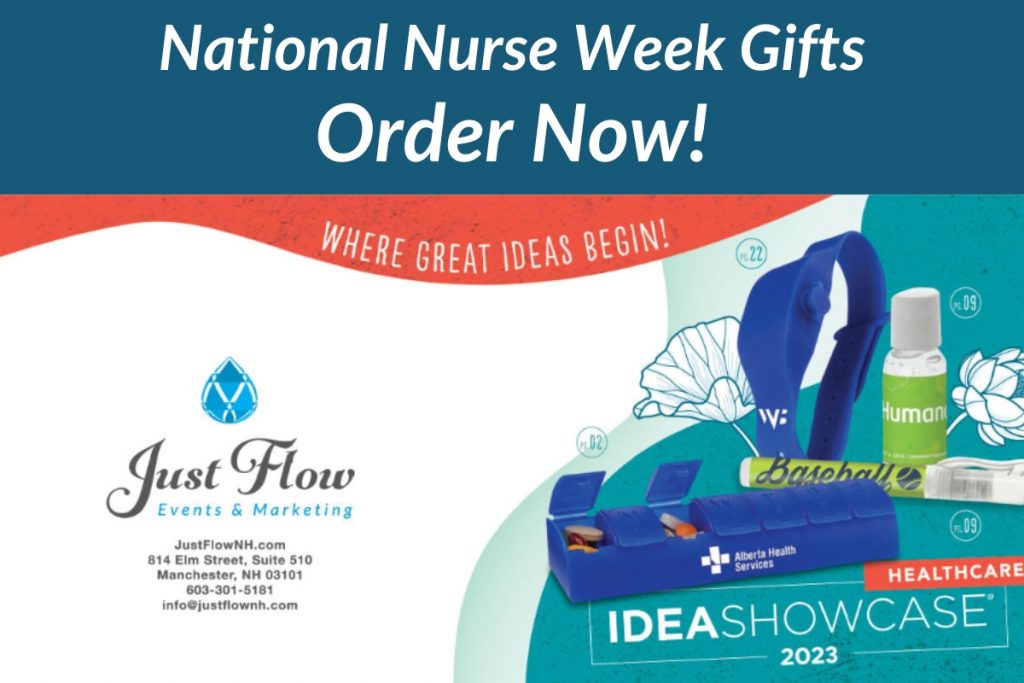 Nurses are the backbone of our healthcare system, and their tireless efforts deserve to be recognized and appreciated. National Nurse Week, which falls on May 6th to 12th, is the perfect opportunity to show your gratitude towards these hardworking professionals with National Nurse Week Gifts.
If you're looking for the perfect National Nurse Week gifts to commemorate this special week, Just Flow Events & Marketing is your go-to ASI vendor. We offer a wide selection of branded gifts that are sure to make a lasting impression on your recipients.
Click here to shop branded promotional products online and place an order with Just Flow.
Our National Nurse Week gifts are of the highest quality and come in a variety of styles and designs to fit your unique needs. From custom first aid kits and hand sanitizer to apparel and drinkware, we have everything you need to make Nurse Week memorable.
To make things even easier, we've created a digital brochure for you to browse through our products. Simply click here to start exploring our offerings today.
With Just Flow Events & Marketing as your ASI vendor, you can rest assured that your National Nurse Week gifts will be delivered on time and of the highest quality. Order now and show your appreciation towards the nurses who make a difference in our lives every day!
Call 603-301-5181 to discuss your vision for National Nurse Week gifts or click here to submit a contact form.
ABOUT JUST FLOW EVENTS & MARKETING
Just Flow Events & Marketing is a full-service event and marketing agency located in Manchester, New Hampshire. Our team specializes in event planning and production, marketing and branding, and promotional product sourcing. With years of experience in the industry, we're committed to delivering top-quality services that exceed our clients' expectations. We take pride in our attention to detail, creativity, and collaborative approach to every project we work on. Whether it's a small event or a large-scale marketing campaign, Just Flow Events & Marketing is dedicated to helping our clients achieve their goals.