Would you like to read about the latest and greatest social media trends and receive social media tips to apply to your marketing strategy? Keep reading for Just Flow Events & Marketing takes on what we learned at Social Media Examiner's 2023 Social Media Marketing World Conference.
---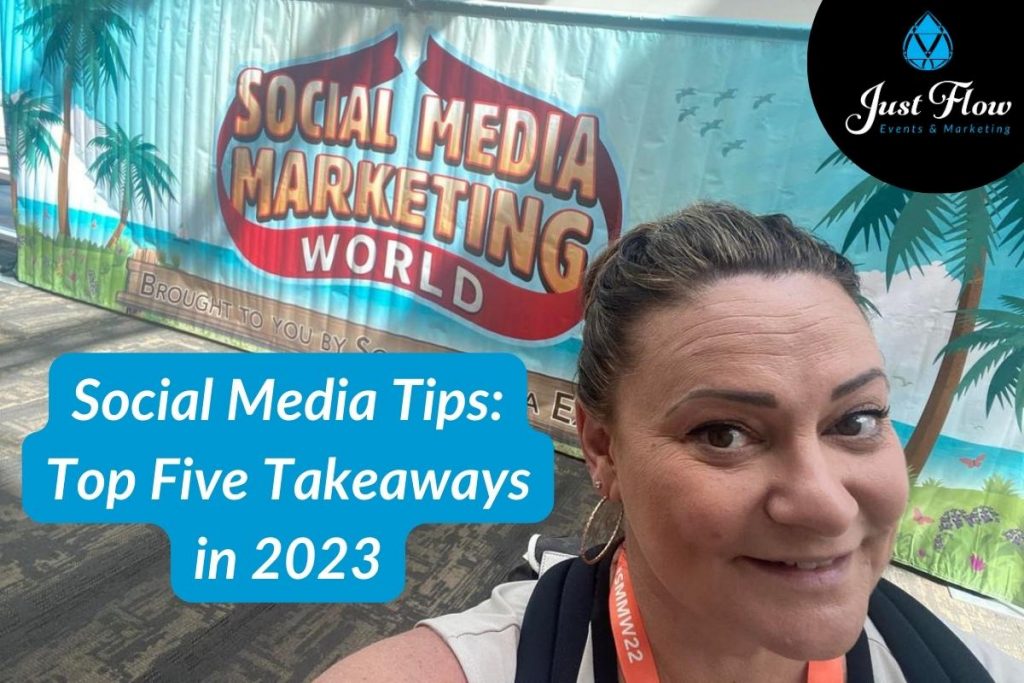 First, AI is not a perfect solution.
If you search ChatGPT on Google Trends, you'll find that this topic is more popular than marketing. Artificial Intelligence (AI) seems to be taking over the world, and ChatGPT is the fastest growing app in the history of web applications. So, should you use AI and ChatGPT for social media tips in your marketing?
You can, but you should plan on spending some time adjusting copy and fixing errors. Depending on the topic and specificity of the content, it may take you a shorter amount of time to just write the content in the first place. ChatGPT uses generative AI to produce human-like responses, but many people have found that ChatGPT gets lazy in long-form content. There will be bits and pieces that you can use, but we've found that ChatGPT still needs a real human to hold its hand to make it to the finish line.
Plus, to poke a little fun at Artificial Intelligence, the Just Flow team decided to upload real life selfies to get AI headshots. The results speak for themselves! Click here to check out the Just Flow team's AI headshots.
Second, capturing video is not hard.
Like most of our clients, the idea of posting regular video content is likely extremely daunting. Where are you supposed to get video clips to use in Instagram reels and TikToks? Day-to-day operational needs do not leave much room to get creative with your brand's videos.
Instead of interrupting your daily flow to take videos every day, a social media tip shared at the conference is to schedule a content day. Capturing a lot of footage in one day can be extremely efficient and effective, providing you with multiple clips to repurpose for months to come.
Let us explain more. A content day is when you block out a few hours on everyone's schedule to capture a variety of video content to use as b-roll on social media. Just Flow just hosted our most recent content day, and here are a few recommendations to help make your content day be most productive:
Plan out the clips you want to capture beforehand.
Bring multiple outfits to vary your content.
Have fun with it and let your personality shine!
Third, your audience does not trust you.

What do people really want?
They want to feel valuable.
They want to see something real.
They want their life to improve.
They want to feel less judged.
They do not want to be let down.
So, what are the social media tips to give your audience what they want when 60% of consumers don't trust brands?
Study your consumers to understand their emotion. Take that emotion and use it in your social media messaging to resonate with your audience and make a deep connection.
Also, don't forget to tighten community bonds by creating human experiences on digital channels. Respond to every message, comment, and review in order to start conversations that give people the opportunity to align with people like themselves.
Fourth, TikTok is not just for creators.
For those of you who are not familiar, TikTok is a short-form video hosting service with user-submitted videos. After watching some makeup tutorials and silly dances, many businesses shut down the idea of implementing this social media platform in their strategies. However, there are plenty of social media tips for your business to join the TikTok conversation.
Start by typing your niche into the search bar on TikTok to see what other people are doing in your industry. While you are looking at competitor content, you can also gather keywords that people are searching for to use in your own captions or on screen in the video.
It may not be the most obvious solution for your brand, but TikTok can be used to study and understand your community to provide solutions to their problems.
Lastly, social media is not dead.
Although it may seem like Facebook is on the decline, there are 3.7 monthly users on the Meta family of apps. Social media is not dead it is just growing up! Industry data shows that Facebook is the social media platform that most improves sales and generates the most leads, so don't count this platform out to reach your audience!
How can you stay up to date on how Facebook is changing? Read the latest Widely Viewed Content Report from Meta.
This may all seem like a lot of information, but Just Flow Events & Marketing is here to help small business with social media tips to grow your brand. Are you looking to outsource your social media marketing? Contact Just Flow today.