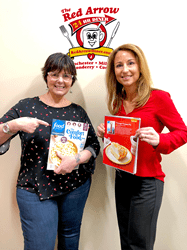 MANCHESTER, N.H. – Red Arrow Diner is excited to announce Food Network Magazine featured its famous Coconut Cream Pie as one of its favorite comfort foods in both the print and digital edition of the publication's March 2019 issue.
Food Network Magazine is America's best-selling food magazine on newsstands. Each issue includes star recipes and tips, behind-the-scenes scoops and fun, creative ideas for home cooks. It is the only magazine in the epicurean category to offer unprecedented access to many of America's favorite TV chefs and reflects the fun, playful sensibility of the Food Network. Red Arrow Diner was one of four restaurants with a featured recipe in the publication's March issue. The magazine called the diner's coconut cream pie "an all-around favorite" and provided an easy-to-follow recipe for the dessert for home cooks to recreate.
"I am thrilled Red Arrow Diner was featured in Food Network Magazine and recognized for our legendary coconut cream pie," said Carol Lawrence, Owner & President of Red Arrow Diner. "As a huge fan of the Food Network, I cannot help but be extraordinarily proud that Red Arrow Diner was featured by this well-respected and widely-read publication that regularly spotlights recipes from some of the best chefs and restaurants in the country."
To celebrate their feature in Food Network Magazine, Red Arrow Diner launched a fun promotional raffle for the month of March. Patrons who dined at any Red Arrow location in Concord, Manchester, Milford or Londonderry, New Hampshire could enter for a chance to win a grand gift basket valued at $250.00 just by purchasing a coconut cream pie or slice. The gift basket includes exclusive diner goodies as well as a $100.00 gift card for use at any Red Arrow Diner location. The winner will be announced on their social media channels in April.
Read the featured Red Arrow Diner Coconut Cream Pie recipe in Food Network Magazine's March 2019 issue: https://www.foodnetwork.com/magazine/recipes/2019/food-network-magazine–march-2019-recipe-index
About Red Arrow Diner
A privately-held company based in Manchester, New Hampshire, the Red Arrow Diner operates restaurants in Concord, Manchester, Milford and Londonderry, New Hampshire, United States. Each Red Arrow Diner location is a 24-hour diner and serves over 500,000 breakfasts annually. The Red Arrow Diner has been featured on various nationally-broadcasted television and radio shows, including the Food Network's Diners, Drive-Ins and Dives and SiriusXM political channels Patriot (125) and Progress (127). Additionally, Red Arrow is an active community supporter with countless volunteer hours, pro bono promotions, and financial donations. For information about the Red Arrow Diner, visit http://www.redarrowdiner.com.