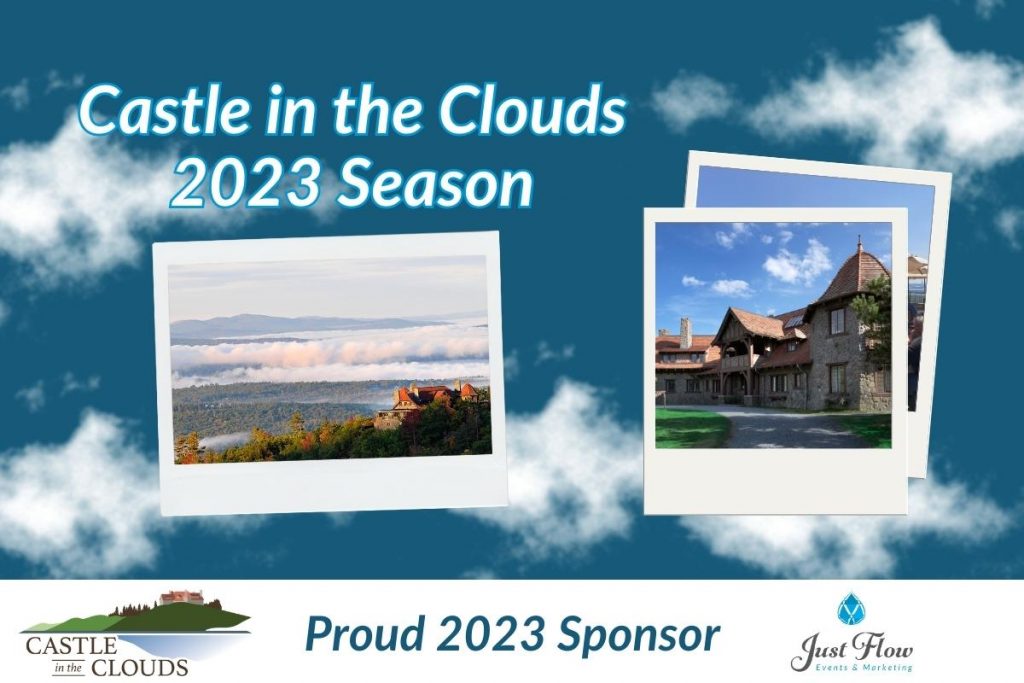 Just Flow Events & Marketing is thrilled to announce its sponsorship of Castle in the Clouds for the 2023 season. The partnership reflects Just Flow's commitment to supporting local cultural institutions and fostering community engagement. As a leading events and marketing company, Just Flow is excited to align its brand with the rich heritage and vibrant atmosphere of Castle in the Clouds.
Castle in the Clouds, located in the picturesque setting of Moultonborough, New Hampshire, is a historic mansion surrounded by enchanting gardens, scenic trails, and breathtaking views of Lake Winnipesaukee. Beyond its architectural splendor, the Castle serves as a hub for various activities and events, catering to a wide range of interests.
The 2023 season at Castle in the Clouds promises an array of captivating programs and events, ensuring there's something for everyone to enjoy. From live music performances and art exhibitions to guided tours and educational workshops, the castle offers an immersive experience for visitors of all ages. Click here to see the full calendar.
For those seeking to expand their knowledge, Castle in the Clouds offers educational workshops and guided tours that delve into the history, architecture, and ecological significance of the estate. Discover the stories behind the castle's construction and the individuals who played a pivotal role in shaping its legacy by planning your visit today.

ABOUT CASTLE IN THE CLOUDS
As the premier historical museum in the beautiful Lakes Region of New Hampshire, Castle in the Clouds provides each visitor with a look into the past while providing contemporary comforts to make every visit memorable. Originally called Lucknow, this breathtaking 6,300-acre property was developed in 1913 by Tomas G. Plant, a wealthy shoe manufacturer, to create a luxurious lifestyle with state-of-the-art amenities, beautiful hand-made furnishings, and a large staff to run the estate. These days, visitors come from all around the world to tour the mansion and exhibit gallery, dine in the Carriage House Restaurant or Café in the Clouds, hike miles of hiking and walking trails maintained by partner organization the Lakes Region Conservation Trust, or enjoy one of our many programs and events. Operated by the Castle Preservation Society, a 501(c)(3) nonprofit organization, Castle in the Clouds is revered as a cultural and educational resource and listed on the National Register of Historic Places with national significance. Castle in the Clouds is also available as a fairytale wedding venue and versatile private event rental. For more information about Castle in the Clouds, visit www.castleintheclouds.org.
ABOUT JUST FLOW EVENTS & MARKETING
Supporting clients since 2010, Just Flow provides event planning and management, strategic marketing, social media, website design development, graphic design, copywriting and other related corporate communication services. Our team offers extensive experience in a variety of industries, including education, fine arts, health care and medical, high-tech, hospitality and dining, manufacturing, membership organizations, professional services and more. With headquarters in downtown Manchester, the full-service agency provides services for clients across New Hampshire, throughout the northeast, along the east coast and beyond. For more information, visit https://justflownh.com.