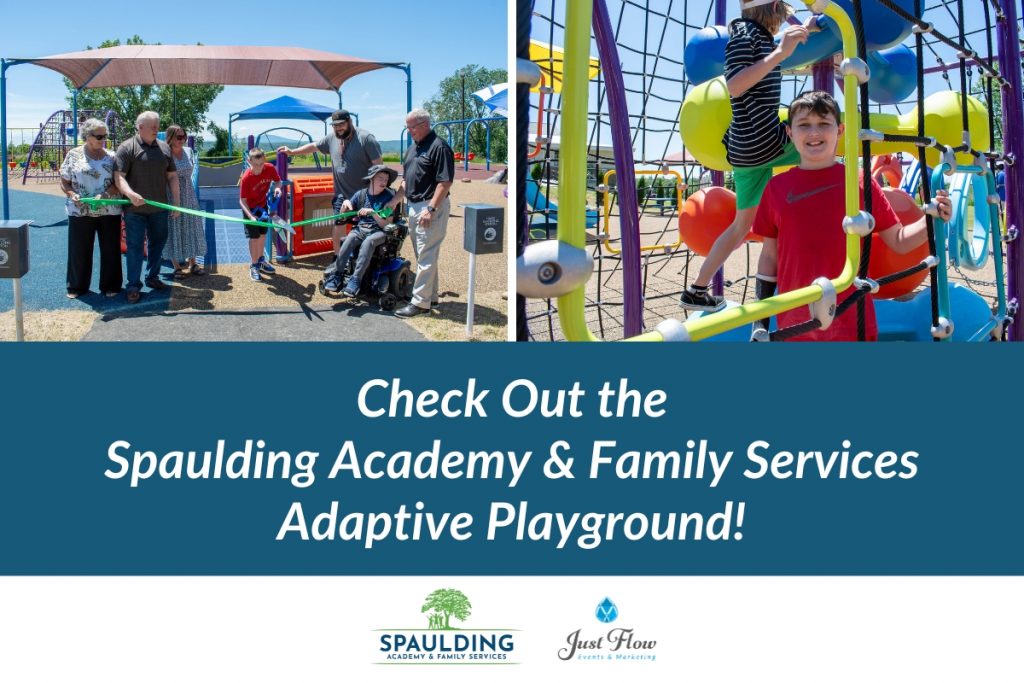 Northfield, NH – Spaulding Academy & Family Services recently held the grand opening of its state-of-the-art adaptive playground. This momentous occasion was celebrated with a ribbon cutting ceremony with the Lakes Region Chamber, marking a significant milestone for inclusive play opportunities in New England. Event attendees enjoyed fresh tacos and treats from food trucks, interacted with local fire departments who brought their trucks, savored lemonade from a student-run lemonade stand, received face painting, and more.
The new adaptive playground at Spaulding Academy & Family Services is one of the largest in the region with over 10,300 square feet of play area. With careful consideration and expertise from Spaulding occupational therapists, physical therapists, teachers, residential staff, and facilities team, the entire Spaulding Family worked together with our partners Miracle Recreation and Pettinelli & Associates to build a playground that would be inclusive and fun for everyone.
"We are thrilled to unveil our new adaptive playground, which embodies the critical work we do at Spaulding Academy & Family Services," said Todd Emmons, President & CEO of Spaulding Academy & Family Services. "We firmly believe that every child deserves a childhood, and with this playground, a child in a wheelchair can roll across the surface, access the swing set, and ride on a spinner. All children can challenge their motor skills, balance, and upper body strength in an inviting and inclusive space that will positively impact the lives of countless children and families for years to come."
"I have been eagerly anticipating this day for a very long time," said Michael Ventura, Board Chair of Spaulding Academy & Family Services. "It is disheartening to think that some children are unable fully participate on a traditional playground. That is why we have put in extensive work, planning, and patience to create a playground that is custom made to cater to the unique needs of the children at Spaulding. This playground is a testament to our unwavering commitment to inclusivity and ensuring that every child can experience the joy of play."
To learn more about the Spaulding Academy & Family Services new adaptive playground, visit https://www.spauldingservices.org/play.
About Spaulding Academy & Family Services
Spaulding Academy & Family Services is a leading provider of educational, residential, therapeutic and community-based programs and services for families, and children and youth with neurological, emotional, behavioral, learning or developmental challenges, including Autism Spectrum Disorder and those who have experienced significant trauma, abuse or neglect. Established in 1871 as the New Hampshire Orphans Home and School for Industry, Spaulding Academy & Family Services is the oldest child care organization in operation in the United States. It is a is a tax-exempt 501(c)(3) nonprofit that was formerly known as Spaulding Youth Center since 1958. Its scenic hilltop campus is located on over 500 acres in Northfield, NH and welcomes boys and girls from ages 4 to 22 from around the state of New Hampshire and beyond. In addition to programs provided on the Northfield campus, Spaulding's community-based programs include foster family licensing, Individual Service Option (ISO) foster care, ISO in-home services, child health support services, and more for children ages 0 to 20 and their family. For information about Spaulding Academy & Family Services, visit www.SpauldingServices.org.